[quietness of Okuno-in Temple autumn] Guidance (from reservation reception desk September 5) of Shuzenji - Okuno-in Temple walk society)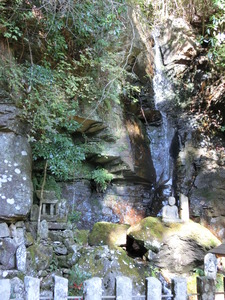 Waterfall (aunnotaki) of Shuzenji Okuno-in Temple inspiration and expiration
Nostalgic romance Shuzenji "Okuno-in Temple autumn quietness"
Shuzenji - Okuno-in Temple walk society
It is every year walk society to be able to enjoy "Okuno-in Temple lunch" which we made with local products over 88 places and Japanese alphabet stone for the last time in ground Okuno-in Temple while enjoying autumn village forest scenery with guide at the distance of approximately one village (approximately 4km) from Shuzenji to Okuno-in Temple of popularity.
Be wrapped up in autumn quietness, and Okuno-in Temple informed that the propagating Buddhism Great Teacher trained himself/herself once will give deep ease.
The quiet details of Okuno-in Temple autumn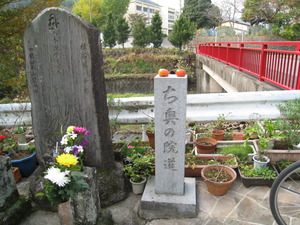 "Japanese alphabet stone" in Okuno-in Temple way "chi"
[the date] On Sunday, October 15, 2017, it is Sunday, October 29 on Sunday, October 22
※In the case of rainout, I will inform in the evening of the day before.
[meeting place] Shuzenji (Shuzenji, Izu-shi)
[time] It leaves Shuzenji at reception desk 10:00 by 9:50
※Guide guides to Okuno-in Temple. It becomes free dissolution after lunch.
※Way home, applicant, please arrange taxi respectively.
[entrance fee] 1,000 yen (valve insinuation) ※More than primary schoolchild (as for the preschool child, impossible)
[capacity] 40 every day (we close as soon as it becomes capacity on first-come-first-served basis)
[application method] We accept from Tuesday, September 5 and start.
Apply at the following within three days before participation preferred date
[application] Izu City Tourism Association Shuzenji Branch [telephone] 0558-72-2501
[instructions]
・In the case of cancellation, cancellation fee (500 yen) occurs on the day.
・That is with pets; cannot participate.
・Is more than capacity in; cannot accept (as for the company, impossible).
In "Okuno-in Temple teahouse which is open on the quiet date of Okuno-in Temple autumn," fresh vegetables and wild plants, taste of Momma including handmade pickle of local mothers line up a lot.
Please enjoy shopping of local products after walk.
Meeting place Shuzenji (Shuzenji, Izu-shi) map