Of Izu that talk in picture book "seven wonder of Izu" - future, and want to connect tell; ...
Do you know the seven wonders of Izu?
"We waver, and, in that, Cape Iro-zaki "junk with a capacity for one thousand koku of rice mast" is seven of the Minamiizu "three Amida divinities of Teishi" Kannami "echo stone" Kawazu "liquor diligence, bird diligence" Shuzenji "hot water of Tokko" Ose (Numazu) "Kamiike" bridge" Dogashima.
There may be few people who know all of these seven wonders in people who were born and raised in Izu.
There is picture book which summarized the seven wonders of such Izu in one book in Nagakura Bookstore of a 1-minute walk from Shuzenji Station.
 Originally Osamu Nagaoka of historian rewrites story that storekeeper, Yoshimasa Nagakura of the future charges of Nagakura Bookstore collects legends to remain in Izu Peninsula and started writing for children in former primary school teachers clearly and attaches cover and soe of illustration which color of illustrator, Hatsumi Tonegawa living in Shizuoka is rich, and is pretty, and it is gorgeous picture book which we want to take in hand unintentionally.
We printed on Japanese paper, and this book which gave binding of Japanese bookbinding by hand, and was made carefully was published from Nagakura bookstore in 2015.
We are selling now in the Nagakura Bookstore head office and the Nagakura Bookstore Santo moon Kakita River shop in front of Shuzenji Station. ※"Even picture book person" of Mishima sells, but is out of stock now
Meet actress, takiimikiga "seven wonder of Izu" of SPAC, and
When we considered in 2020 when actress notakiimikisanha of theatrical company SPAC (Shizuoka performing arts center), infection of new coronavirus spread while we had been hardly canceled in performance of theatrical company "is there not artwork which it was possible for to anything oneself by corona evil?" Hatsumi Tonegawa of friend remembered this book in charge of soe.
When there should be reading drama at the place where legend of the takiisanha seven wonders remained at first that came across book, it was vague and seemed to be thinking. From there, can enjoy even corona evil at stay home; "read aloud locally; received thought, the furtherance of fujinokuni # yell art project so that delivery did picture", and reached realization.
Please see reading and picture on nature of beautiful Izu who takes a trip to Izu together when we do not let you cook and be at all and the legendary stage by all means.
Legend of the seven wonders that nature of mysterious Izu produced
"Legend is art that ancient people laid. It is religion.
No, we leave aged bonze saying it is life of ancient people and is inheritance itself.
Does Izu not think that it is 8 million mysterious village forests where gods are?
The sun pours into God brightly, and Izu blessed with seafood, riches of the soil will be comfortable thing.
Do you not go round Izu while looking for legend that God left?
Surely we start magic that Izu comes to love.
Than ... Nagakura Bookstore "seven wonder of Izu" ...
We want many people to know this book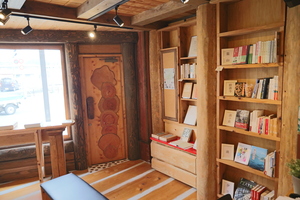 The collection of books that adjacent "library of trip" is Izu-related in the Nagakura Bookstore head office is the best in Izu
On publication of "seven wonders of Izu", storekeeper, Kazumasa Nagakura of Nagakura Bookstore went round the legendary grounds of all seven. There was reluctance of leaving that used GPS, and heard, and turned around, and at last was found in natives if there was the ground which legend was handed down well, and was left, and there seemed to be still such a place where there was not signboard. Though we are lost little by little if we do nothing, by leaving for book as tradition, anything may change.
 Nagakura "has you feel charm of Izu from point of view unlike sightseeing through this book and wants "Izu who is not known too much" to rotate to local people. And we said, we want you further to come to like land called Izu. When surely that is wish of grandfather who wrote the seven wonders of Izu first.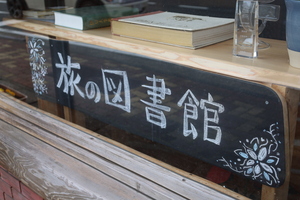 Inquiry
Nagakura Bookstore
| | |
| --- | --- |
| The location | 〒410-2407 552-4, Kashiwakubo, Izu-shi, Shizuoka |
| Phone number | Telephone 0558-72-0713 /FAX 0558-72-5048 |
| URL | http://www.e-hon.ne.jp/SHOP52129 |
| E-Mail address | [email protected] |
| Having parking lot or not | Available (three) |
| Business hours | 9:00-18:00 |
| Regular holiday | No fixed holiday |