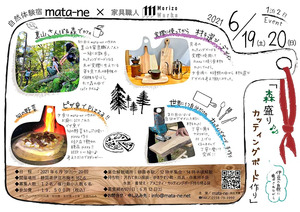 It is guide of event made with natural experience-based cutting board hosted by mata-ne.
Shall we participate in event of 2 days and 1 night while it is healed naturally of Izu?
◆Schedule    From Saturday, June 19, 2021 to 20th Sunday
◆Holding place 167-6, Umegi, Izu-shi
◆The offer number of people  :Six 12/minimum passenger count
◆Entrance fee   :19,500 yen (tax-included)
        ※It includes *3 meal of cutting board material cost, hotel charges, ingredients costs, insurance charges
◆Meeting dissolution place: Shuzenji Station/12:30 meeting, around 14:30 dissolution
◆Belonging   :Clothes, walk that it is good that become dirty breathe; gloves, water bottle, change of clothes for shoes, rain outfit, work
        Bag which takes amenity cutting board home with it
◆The offer deadline  :Saturday, June 12
◆mongo, application :[email protected]
For more details, please see the official homepage.