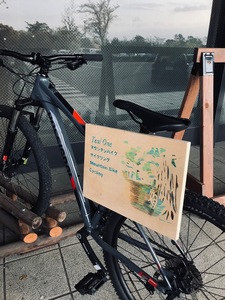 New way of enjoying Shuzenji
  Mountain bike cycling
Teal (Tyr) is color of the sky and water and the mountains of Izu.
 Experience-based course that runs on way of flatness basic tone for approximately 1.5 hours

 3-hour long course that is uphill, and falls down refreshingly in earnest
Both will coordinate root  while asking about request of customer when on the day we met.
◆Experience-based course: From 5,500 yen/one
◆Long course: From 8,800 yen/one
※It becomes chartered even from one person. (to 1-5 people)
As for the details, please see formula HP.