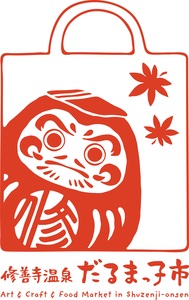 Handmade city which is held in hot water park of Shuzenji Onsen, Tokko.
Handmade article of various genres including accessories by eating and drinking booth using local ingredients and discerning ingredients and local writer and craft work including container of tree is going to open a store. There is booth that drink and restaurant open a store ♪ In Shuzenji Onsen, would you you like to come to find one article of favorite?
The details of Shuzenji Dharma native city
** during Sunday, August 15, 2021 ** holding timing
■Exhibition division
Tokko Park (1 division about 2.5m *2.5m), 17-20 division in total
■Exhibition charges
5,000 yen → 1,500 yen
※As support plan, we lowered exhibition charges than usual only for this time.
※Each person, please bear parking fees.
■Exhibition item
Handmade article (please refrain from exhibition hahago with article of recycling product, the stocking.)
When you are proved not to be handmade article of person from branch, you become impossible of exhibition, and please be careful as even on the day you must remove.
■Equipment
We think that we will prepare tent, desk, chair for exhibitor as much as possible.
When we wish to rent, please let know beforehand. On the day I would like receipt respectively in Shuzenji synthesis hall on the date.
Tent (2.0m *2.0m): 2,000 yen/day (member of Izu City Tourism Association: 500 yen/day)
Desk (Wm X Hm X Dm): 500 yen/day
Pipe chair: 200 yen/day
As for exhibition essential point, the exhibition application, please see Dharma native city HP.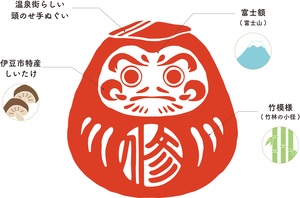 Around Shuzenji hot-spring resort, we call local children brought up at the foot of "Mt. Dharma" "Dharma native".
Besides, face of Dharma was dug, and "Dharma stone" is placed in the precincts of Shuzenji, and Dharma city is held in "Masuyama temple", too and.
"Dharma" who appearance is lovely, and is Japanese folkcraft in lucky charm.
Event grew up quickly and healthily and assumed "Dharma native city" with wish that he/she heaped up Shuzenji hot-spring resort.
In connection with local elementary school, we will think in future that we should be able to do children and on-site training through product planning and sale.